Fellowship Student Ministry creates an environment where students are known and loved
7th-12th graders are invited to join our primary FSM gathering Wednesday nights from 6:30-8:30PM.
FSM at the Brentwood and Franklin campuses typically includes a large group, worship, biblical teaching, breakout time in small groups, and relational games
---
FSM Calendar
View this semester's calendar here

Throughout the Fall and Spring semesters, we host weekly gatherings at the Brentwood and Franklin campuses. We also gather for special events such as monthly on/off-campus "Big
Wednesdays", weekend camps and retreats, and other fun outings.

*Please note, during the summer (Middle of May–Beginning of August) we still gather, but on a semi-regular basis, due to our global mission trips. Summer events will be kept up to date on
our all-church calendar here.
Good To Know:



On

-

Campus Big Wednesdays

,

where all 7th

-

12th grade students meet in the Worship

Center together

. These happen every other month, typically on the last Wednesday of

the month

Off

-

Campus Big Wednesdays

,

where individual 242 groups will g

et together off

-

campus

for a night of fellowship and connecting with their group

. These happen every other

month, typically on the last Wednesday of the month.

Camps and

r

etreats where students and leaders will spend a weekend at a retreat

center for game

s, worship, teaching, and intentional small group time.
242 Groups
242 Groups
FSM desires each of our students to experience an equipping community that allows them to wrestle with the truth of the gospel and how it impacts everyday life. We create space for our students to be courageously real and authentically known in relationships with others in what we call "242 Groups" (named after Acts 2:42). These small groups are open and available to all and led by 1-3 adult leaders, divided up by grade and gender.
They devoted themselves to the apostles teaching and the fellowship, to the breaking of bread and to prayer. Acts 2:42
Camps
Camps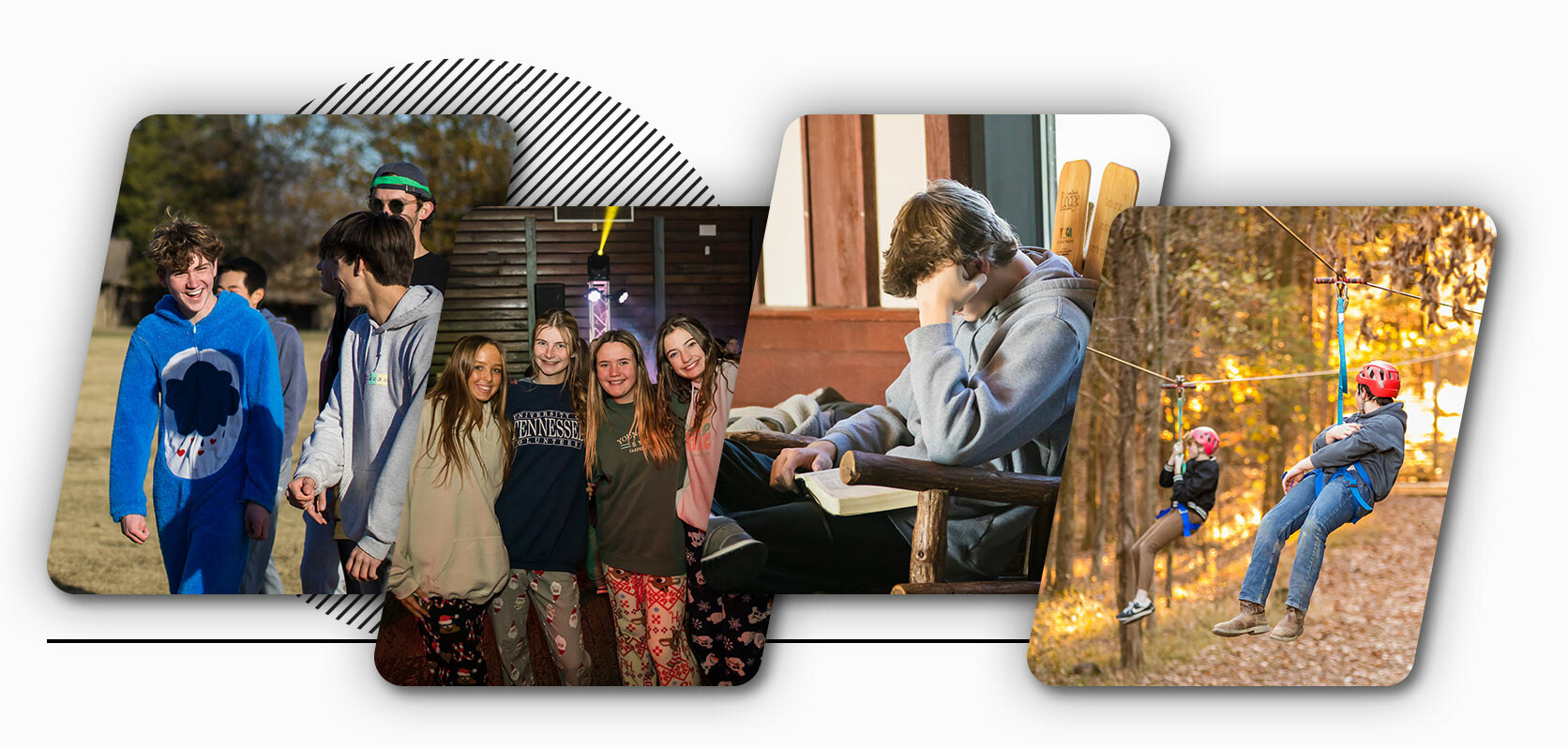 Fellowship Student Ministry believes in the value of fun—creating an environment where students feel safe through shared experiences. We know life can be hard and feel heavy, and often it seems like there is no relief. That's why FSM Camps and Retreats are designed to help students laugh, have fun, and be themselves with friends—all while digging deeper into God's Word. We provide 3-4 camps throughout our calendar year for students to attend and hope that your student would join us in the fun of getting away!
Global Trips
Global Trips
FSM global trips are a great opportunity for our students to live out our mission of "becoming a community of people who follow Jesus with our whole heart and help others do the same." This year our students have the opportunity serve in Guatemala, Peru, or Slovenia! All global trip teams will have a chance to go through a six-month training and support raising process in preparation for going to serve. The deadline for 2023 FSM Trip Applications is December 14. For questions about the application process email Stephanie Todd at
Students and parents are expected to attend the initial informational meeting on February 17th from 7:30-8:30pm in the Loft. Furthermore, all trip members (students) are required to attend four mandatory training sessions on April 11th, April 25th, May 9th and May 23rd.
Baptism
Baptism
Baptism is one of the two ordinances instituted and commanded by Jesus for believers. It is an outward symbol of an inward life change and a celebration of becoming part of the body of Christ. Because we believe in the profession of faith, we require all students who desire to be baptized at Fellowship to meet with a staff member in order to determine their understanding and readiness.

Fellowship Student Ministry typically has two Wednesday Nights a year focused on baptism. Along with those Wednesday nights, students are welcome to be baptized in a baptism service on Sunday Morning, during a special all-church evening worship and prayer gathering, or in a smaller setting with family and friends. If you are interested in being baptized, fill out this form, and a staff person will contact you to set up a meeting!

To stay connected with us on Instagram, follow us @fellowshipstudentstn.
Serve with FSM
Serve with FSM
242 Leaders
In 242 groups, leaders facilitate small group conversations with a group of 10-15 students after a large group teaching. This is where leaders get to foster a fun and safe community for the students to experience God and each other.
Volunteer Requirements:
A fellowship member or regular attender

Attend a volunteer training session

Complete our abuse prevention training

Sign off on our Policy and Procedures
I'm interested in becoming a 242 leader

Wednesday Night Worship Hospitality
Another way to serve our Student Ministry is by volunteering to bring a meal on Wednesday Night for our Band and Staff. Email to sign up to bring a meal.