---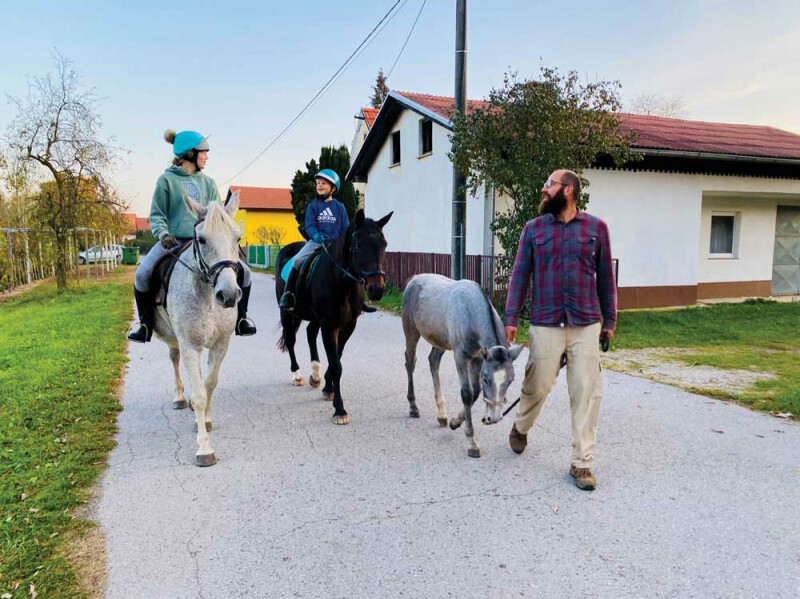 On a recent Sunday afternoon, by way of the technical wonder that is Zoom, Andrej Lovše took time to reflect on the ups and downs of ministry life in a small Slovenian village.
But he had to hurry.
He and his wife, Nina, were scheduled to join friends at a local high-ropes course, after which they would attend an open mic concert as part of a festival. The next day would conclude with a five-hour boat ride with friends as part of this same festival.
If you knew nothing more about Andrej and Nina, you'd have a good idea about what drives their approach to ministry. "We want to be out doing things with our friends," says Andrej. "It's all about building relationships."
Andrej has pastored a traditional evangelical church in a large city nearby for many years. Over time, he tried many church-based programs to reach the lost, with little-to-no success. Thirteen years ago, they moved to a small village outside the city with the goal of building relationships and sharing Jesus. Just three years ago, they started a new approach called Discovery Bible Study.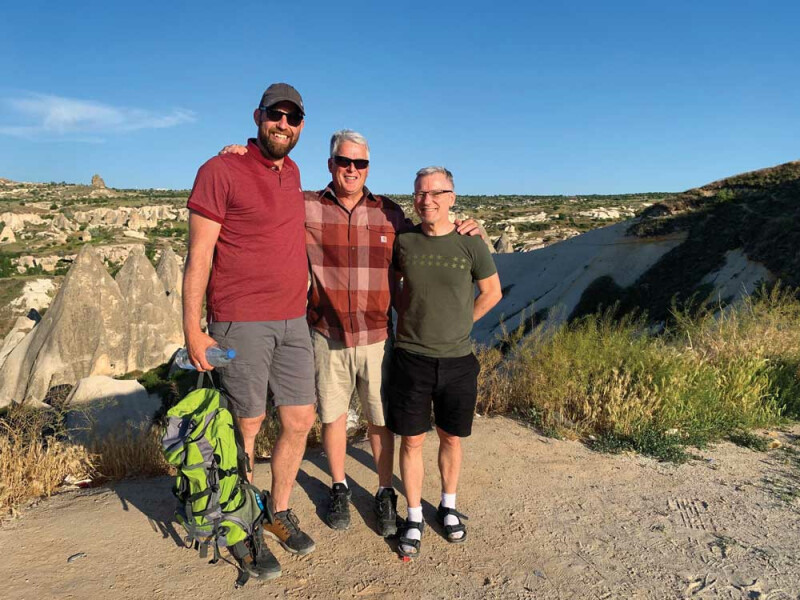 To understand this approach, it helps to know some things about Slovenian culture. First, most Slovenes are familiar with the language and structure of Christianity as a religion. "Most of the people we know are very nominal Catholics," says Andrej. "They went through baptism, then first communion… the whole thing. And because of what they experienced most of them despise religion. Many are searching for God but don't want to be involved with the Catholic church."
Second, community in Slovenia is experienced in small chunks. "Slovene culture is built around small groups of people," says Andrej, "and once you have your small group it's very hard for others to join. Whether at work or at school or where you live, it can seem impossible to join an existing group if you're considered an outsider." And that was what Andrej and Nina were when they moved to the village; they were outsiders with little hope of acceptance.
"Even though we tried to be friendly, many people in the village wouldn't greet us. They would just stare at us and not talk to us." To add to their discouragement, Andrej learned that their neighbor had lived in the village for 30 years and had never been accepted. This was difficult news to hear.
Determined to break the ice, Andrej and his family did all they could to build relationships. They were exceedingly friendly to villagers; they volunteered to help neighbors with their harvests; and every year, they organized appreciation days for their children's teachers at the local school.
They also took regular prayer walks throughout the village, listening for promptings of the Holy Spirit as they prayed over individual houses and the community as a whole.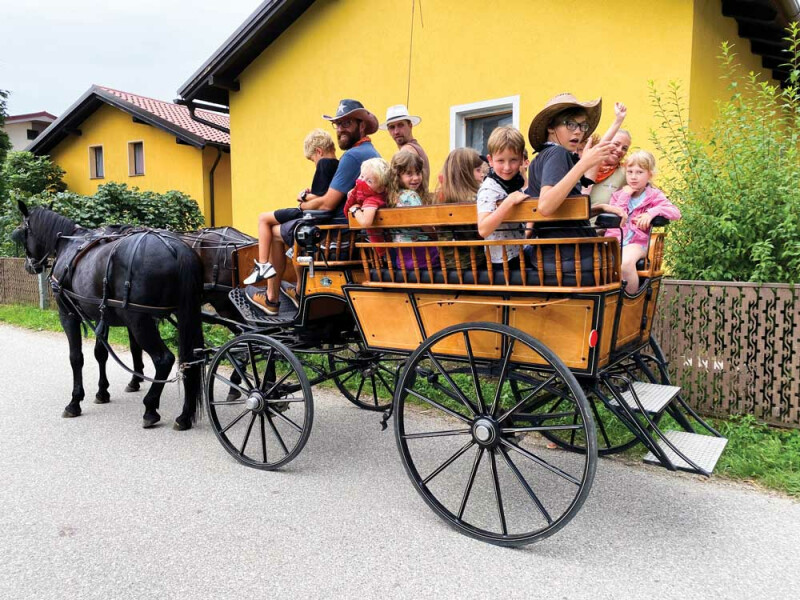 Ten years passed, and the family was still on the "outside." Still, they prayed, worked, and waited for opportunities to "break the ice."
Then a man from a village 30 kilometers away decided he had too many horses and offered to give one to the Lovše family. At first, they weren't sure they could afford to keep the animal, but when God provided pasture for grazing and hay for the winter months, they decided to keep it.
Surprisingly, it was when Andrej started building fences in his pasture that villagers stopped to engage him in conversation. "I believe they didn't see me as an outsider anymore," says Andrej. "Now I was doing something they'd been doing for generations: caring for animals, building fences, working with my hands." When Andrej rode his horse throughout the village, people would smile and stop and talk about horses. Finally, there was acceptance from the community the family had grown to love.
A short time later, Andrej received a call from a man who'd infrequently attended their church in the city. He lived in the village and was going through tough times. When Andrej prayed for him and asked if he would like to get together for Bible study, the man agreed. Then Andrej asked if the man had friends who would want to join them; the man said he would ask around.
Months went by, and Andrej heard nothing. Then, while mingling with people at a child's birthday party, a man approached Andrej and said, "Hey, I'm really excited about that thing we're going to do at your house." Andrej smiled and said, "Yes, but what thing is that? The man replied, "You know, reading the Bible. I've always wanted to read it."
A week later, the same thing happened at a different child's party, where another father said the same thing. When the study began in January of 2021, seven individuals—all non-believers—were sitting in Andrej's living room reading the Bible together!
They began by reading about Jesus's miracles in the Gospel of John. Then Andrej would ask a few simple questions. "Of course," he says, "at first we heard many different answers from the guys, like New Age thinking, etc. I had to bite my tongue, but it was important to create an environment where people felt free to share. Thankfully they kept coming back each week."
When Nina invited a girlfriend to join the group, the friend wasn't thrilled about what they were reading. "Of all the books in the world," she would later tell them, "I had no interest in reading the Bible. But I was willing to go through it just so that I could get to know you better." God touched her through His Word, and Nina began studying with her personally. Two of the men's wives joined the group, making nine regulars in attendance.
Andrej and Nina have seen God at work in exciting ways. For example, an unbelieving couple that was living together for many years has transformed. After the woman decided to trust Christ and started learning to follow him, her partner soon did the same. They were baptized and shortly after were married by Andrej!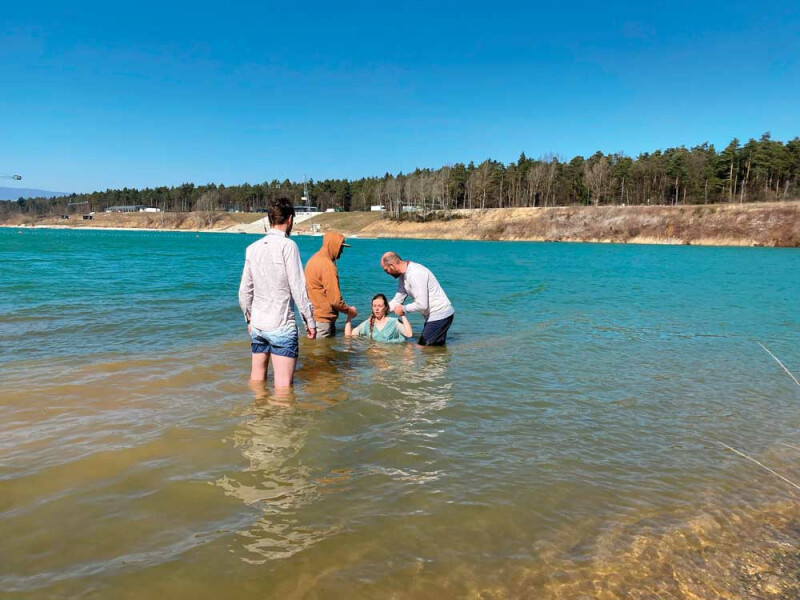 Andrej says the group is enjoying meaningful community together as they share meals, serve together, and see each other at their kids' schools and around town. "It's beautiful," he exclaims. "We're all really good friends. Just two days ago, some of us went to the movies and dinner together. And now one of the most successful farmers in the area is a close friend of mine, and this friendship has put me in touch with the larger community."
After thirteen years of living in the village—thirteen years of prayer walks and persistence and waiting and trusting—God has now opened many doors for sharing about Jesus. Andrej is overcome by God's goodness, but he dreams of even more.
"I long to see this kind of thing take place all around the country," he says. "I would love to see a healthy church with a youth group in every town that has a high school. Slovenia is small—there are about 50 towns in our country, and only 34 of them have churches with active youth groups. I would love to see 30 new churches planted over the next number of years. That would almost double the number of churches in our country."
"This is my vision," he continues, "and we're asking God to open doors. On Tuesdays, I join a few close friends to prayer walk through different towns. We're asking God to do what only He can do. It's His work, for sure. We're asking Him to do in many towns what He is doing here in our village."
Before leaving to join his friends for an afternoon together, Andrej gave some final thoughts.
"As I look back at the last few years, it's beautiful what God has done. I'm learning that discipleship is about simple obedience. Years ago, our small church in the city went through hard times. We tried all the programs and stuff… you name it, and we tried it. Then God was like, 'Okay, let me show you what I can do.'"
"And He brought this group together right in our home."